The February Labor Market
March 13, 2006 – U.S. payroll employment (released Friday) rose by a strong 243K in February following a revised 170K January gain (originally +193K). Payroll growth averaged 186K per month for the three months through February.
Payrolls rose by a solid but unspectacular 1.5% in the 12 months through February (Chart 1). This 12-month trend in payroll growth has been running at about 1.5% since Q4 2004.
The unemployment rate edged up by 0.1 percentage points to 4.8% in February – essentially unchanged (Chart 2). The unemployment rate has been essentially at or below the Congressional Budget Office's 5.2% estimate of its full employment level for the last 12 months. Thus, the evidence of the unemployment rate continues to suggest a relatively tight labor market.
At the same time, the lack of a cyclical recovery in the labor force participation rate also continues to suggest that the unemployment rate might be understating the "true" size of the economy's labor reserves (Chart 3). The labor force participation rate edged up by 0.1 percentage point to 66.1 in February, but remained depressed.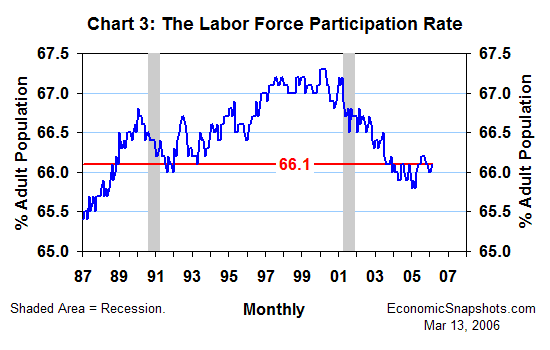 Keeping everything else the same, if February labor force participation had matched its rate in the corresponding month of the last expansion (66.5% in June 1995), the unemployment rate would have been 0.6 percentage points higher at 5.4%.
Average hourly earnings rose by 3.5% in the 12 months through February – accelerating by a full percentage point compared to this time last year (Chart 4).
However, to the extent that this extra earnings growth is being offset by either slower growth in non-wage labor compensation costs or gains in labor productivity, it does not necessarily pose an inflation threat. As of Q4, unit labor costs (total hourly labor compensation costs adjusted for labor productivity growth) were rising by a mere 1.3% compared to their year-ago level, and real unit labor costs fell by 1.7%.
Suzanne Rizzo